Barn weddings tend to hold countless possibilities for excellent photos and breathtaking details. You might think a barn wedding is somewhat tricky to plan or expensive, but it's a very budget friendly venue and oh so simple (plus if you choose, we can provide all the decor for you whether it's our standard burlap and lace package or completely customized).  Simple decorations, simple food, simple beauty.  Simplicity makes barn wedding venues the most incredible wedding venue choice.  Rustic centerpieces are no different.
Rustic is synonymous with simple
Rustic is the most ideal way of describing amazing and stunning wedding centerpieces for barn weddings. Wildflowers, bird cages, burlap, pillar candles and more can be the center of attraction. One good thing about rustic centerpieces is that you can use your own freedom and creativity to make them look beautiful and cool.

Rustic Centerpieces are low stress
The other good thing about rustic centerpieces is that they're super low stress.  No putting together expensive masterpieces.  Keep things simple, easy and beautiful.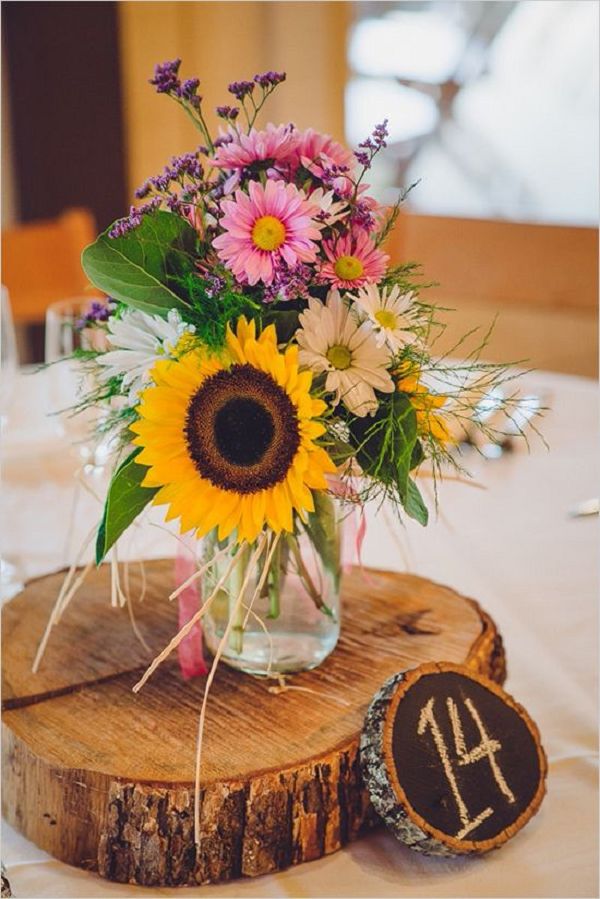 Rustic Centerpieces to Inspire the Day  
If you love those rustic wedding trends then you can take a look on the gorgeous rustic centerpieces to inspire the day. Rustic centerpieces are now one of the most popular accessories commonly seen in barn wedding venues. Many couples, particularly the bride prefer rustic centerpieces believing that these are the perfect match to barn or farm wedding venue. Some individuals even incorporate the rustic motif with elegant décors.
Succulents and other plants
For those who love and prefer the rustic look and feel on their special celebration, they can consider implementing small yet impactful elements of branches, moss, succulents and woods to the wedding event design or save this theme for pre-wedding party. So if you really choose the rustic theme for your wedding, make sure that you make rustic centerpieces the accessories that standout during the big day.
Wood
Rustic themed weddings can also showcase rustic wedding centerpieces made of wood. In barn wedding venues, wooden tables and chairs are a common sight. The tables are usually draped with a fabric runner or burlap runner and includes garlands of greenery or blooms.
Just add flowers
Wood centerpiece designs can also allow for a more laid back designs or feel for tables. Flowers for instance can be placed on wooden boxes or birch-wrapped bases and positioned next to verdant herbs, greenery and moss. If you also wanted to incorporate crystal details in your wedding reception décor, you can embrace the elegant rustic theme.
Rustic centerpieces connect you to an old way of life
Rustic barn weddings have become more widespread and popular especially for city dwellers who miss contact with nature.  Barn wedding venues just call for the right decorations and centerpieces. Choosing rustic centerpieces is a smart choice but make sure that these are pretty enough to catch the interest and attention of the guest and everyone present.
More Rustic Centerpiece Ideas for Barn Wedding Venues
The following are some rustic centerpieces ideas you can consider for your barn wedding venue:
Painted mason jars
Geometric glass boxes
Natural acorns
Lighted garland
Personalized wood vase
Candle holders
Wooden hearts
Natural wood vases with fresh flowers
"Mr. and Mrs." Signs
Vintage frames
Gallery wall art
Elegant numbers on wedding tables and more….
So if you decide your wedding ceremony to take place in a barn, make sure to find the perfect rustic centerpieces to give additional touch of elegance and style into your wedding venue.
Which rustic centerpieces would you choose?