A lot of Weddings are Boring
Let's be honest.  We've all been a guest at that wedding, if not many weddings, where we sat there bored out of our mind, eating terrible food, our feet hurting because of our poor shoe choice, listening to music we don't like and wondering why we spent so much on our gift.
I've been to quite a few weddings like this and these weddings, in a word—boring.
The One that Stands Out
There's one wedding that really sticks out to me and is my wedding inspiration.  A friend from college got married to a Greek girl.  If you've never been to a greek wedding, just watch My Big Fat Greek Wedding—100% accurate.  I'm not kidding.  Even down to the Windex.
This was absolutely the best wedding I'd ever been to.  The venue wasn't that impressive.  It was the Luxor Hotel in Vegas.  The groom was Egyptian from the city of Luxor so yea that was neat and the hotel is kinduv cool looking, but it was just a banquet hall like every generic banquet hall.  I can't remember the food- I'm sure I didn't like it because I'm the world's pickiest eater (I have a trophy).  So what was it that made this the absolute best wedding I've ever been to??
I felt like I was part of it.  
There was a sense of community because this was a cultural wedding.  There were traditions where I could get into.  They had traditional greek dancing where everybody links arms in a circle and dances around with the same simple steps.  The bride took the time to teach me the steps and I could join in.
The sense of community made me love this wedding.
So maybe you're not a Greek bride.  Maybe you don't have cultural traditions that help to bond your weddings guests together.  That doesn't mean there isn't a lot you can do to create a sense of community for your weddings guests.
A good DJ 
Starting off with a more traditional idea, a good wedding DJ can really help get the wedding guests involved.  Besides choosing the right wedding music, a DJ will encourage people to get on the dance floor, get more food, socialize and have a good time.  They'll also keep the music going smoothly, which is easier said than done.  Awkward pauses in the music really makes things…awkward.
Games
Speaking of DJs, one we know does the Shoe Game.  He has the bride and groom sit back to back and asks them questions like 'Who is the messy one?'  If it's them, they have to raise their shoe into the air.  It's simple, but it gets the whole wedding guest crowd laughing.  Laughing guests are happy guests and happy guests are interacting guests who will go home with good memories.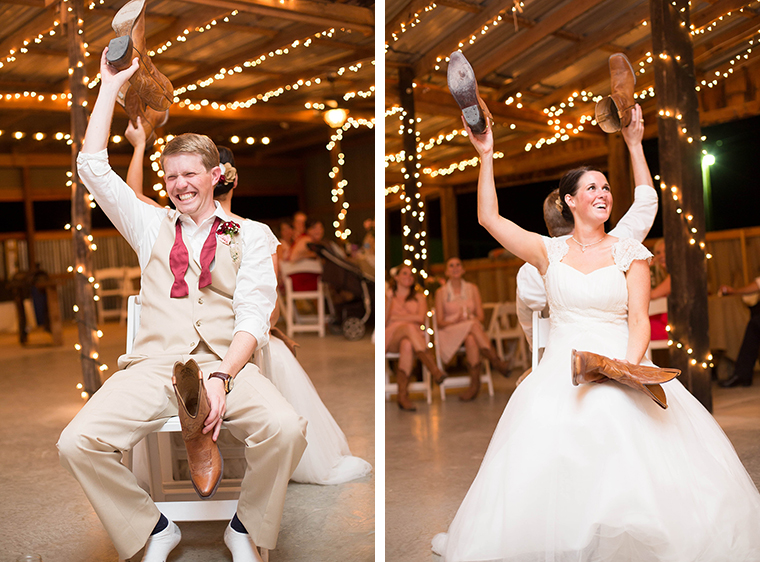 Other games can be used to give the wedding guests things to do and encourage them to get up from the table and interact.  One wedding had a board game area.  Another brought a corn hole (bean bag toss) set up.  We've often set up horse shoes for our weddings. Giant Jenga is a good way to get people laughing.
Dances (choreographed so that people are comfortable)
Like the greek wedding I attended, dancing is a great way to get guests interacting.  HOWEVER, some of us (like me) hate the whole shimmy-your-body-awkwardly-around-the-dance-floor-type-dancing.  I loved the greek wedding because, once I learned the steps, I actually got to participate in the dancing.  No matter your style of music, think of how you could incorporate a choreographed dance -country line dancing, thriller, folk dancing, swing dancing.  There's a reason dancing is so popular.  It's fun!  So get people comfortable by having a dance lesson at your wedding.
Maybe even provide your wedding guests with a basket of flip flops they can grab to change out of those dumb but cute shoes us ladies always torture ourselves with. You can get flip flops wholesale for pretty darn cheap.
Surprise gifts
Instead of the boring wedding favor sitting at everybody's seat (you know, the one nobody actually wants?), have door prizes of sorts.  Have cool gifts that you give to certain people with a nice speech, the best dancer or the person who stays the longest.  Maybe set up games that have prizes.  Even introverts will get involved if there's a nice gift on the line.
Strategic 'social' seating areas
For a more passive way to get people interacting, social seating areas can help.  At our wedding venue, we have a fire pit area with benches around it.  Without fail, there's always people sitting there having deep, heart felt conversations long into the night.  Before we set this sitting area up, we never noticed this happening.  There's something about isolated benches and a campfire that changes everyone's mood.  We've also set up hay bale couches that are adorable, fun and give that perfect rustic wedding feel.
Forced speeches
This could be awkward, but that could also be half the fun.  Have the person giving the current speech pick someone to give the next speech so that anyone might have to stand up and talk.  No more awkwardly waiting for someone to volunteer.  Plus it gets everyone involved, allows for a lot of laughing as people say stupid things and laughter=good wedding.
Bonus idea
Get married at our wedding venue!  Why?  One of the things we do is offer entertainment for the guests during the cocktail hour.  We give educational tours of all the animals at the ranch, offer a goat milking demonstration (where the guests can try it out) or even a mozzarella cheesemaking demonstration.  Cocktail hour tends to be the most boring part of the wedding if you aren't careful.  The bride and groom is off taking pictures and your guests are???  At our venue, you don't have to stress about them being bored out of their minds because you know we're entertaining them.
Use your imagination
There's so many different things you could do to get people involved and  not just sitting there.  Remember to care to the introverts as well as the extroverts.  Have board games, a deck of cards at every table, for fun put Cards against humanity or even better, get Cads About Matrimony which is the more PG oriented wedding version of the game.
Use your imagination and just think, once the food is eaten, how are you going to keep our guests interested?  Most people don't plan anything for the post-meal part of their reception and it's considered "polite" to leave as soon as the cake has been cut.  How can you get your peeps to stay at your wedding longer?
What ways have you come up with to help create a sense of community at your wedding?